Ramming material refers to the unshaped refractory material that is constructed by ramming (manual or mechanical) and hardened under the action of heating above normal temperature. It is made by kneading refractory aggregate, powder, binder, admixture, and water or other liquids with certain matching. According to the material, it can be divided into high alumina, clay, magnesia, dolomite, zirconium, and silicon carbide.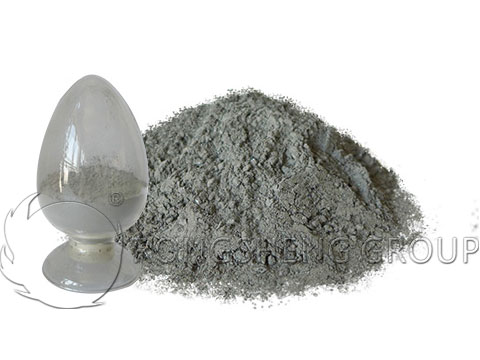 Application of Unshaped Refractory Ramming Material
Ramming materials are used in high-temperature kilns, and refractory materials must have good volume stability, compactness, and corrosion resistance, so high-temperature firing or capacitor materials are generally used. The maximum particle size of the ramming material is related to the location of use and the construction method. Generally, the critical particle size is 8mm, and the maximum particle size can reach 10mm. The amount of granular material is 60%-70%, the amount of powder is 30%-40%, the amount of cement or water is 6%-10%, and the admixture is selected according to the thermal equipment and construction.
The ramming material determines the required ramming material according to different use parts and also determines the type of binder according to the ramming material. Inorganic substances such as phosphoric acid, aluminum phosphate, and sulfate are often used as binders for high-alumina and corundum ramming materials. When phosphoric acid is used as the binder, it will undergo a series of chemical reactions with the ramming material, which will make the ramming material lose its plasticity and make construction difficult, so oxalic acid should be used as the preservative. Carbonaceous ramming materials mainly use pitch tar or resin as a binder, which can form carbon bonds. Carbon prevents the wetting of molten metal and improves erosion resistance and thermal shock resistance.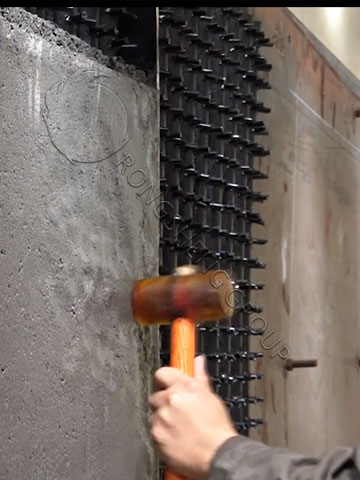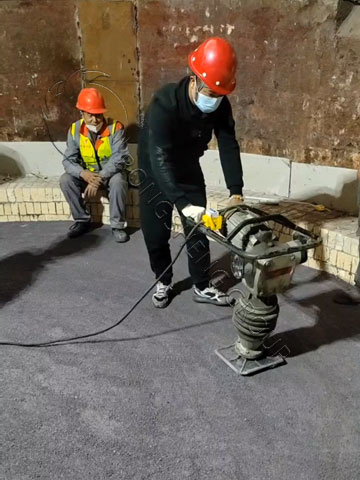 Construction of Unshaped Refractory Ramming Material
The construction of ramming material is very important. The ramming material is generally rammed with an air hammer or a ramming machine, and the thickness of the rammed material is about 50 mm-150 mm for one ramming. The ramming material can be constructed at room temperature. If a thermoplastic organic material that can form carbon bonds is used as a binder, most of them will be constructed immediately after stirring evenly in a hot state. After molding, different heating methods are adopted to promote hardening or sintering according to the hardening characteristics of the mixture. For ramming materials containing inorganic chemical binders, when the self-hardness reaches a certain strength, the mold can be removed and baked. Materials containing thermoplastic carbon binders are released from the mold after cooling to proper strength. After de-molding, it should be heated rapidly to carbonize it before use. The sintering of the ramming material lining can be carried out before use, or it can be completed by heat treatment with a suitable thermal system when it is used for the first time. The baking heating system of ramming material varies according to different materials.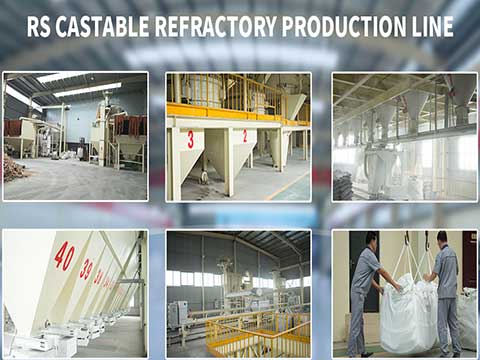 Rongsheng Unshaped Refractory Ramming Material Manufacturer
The refractory ramming material produced by Rongsheng unshaped refractory ramming material is used as the lining of the smelting furnace where the casting is in direct contact with the molten material. Blast furnace tapping trough, steelmaking furnace bottom, induction furnace lining, rotary kiln blanking parts, etc., can also be made into large prefabricated parts. Rongsheng Environmental Protection's advanced fully automatic monolithic refractory production line has an annual output of 80,000 tons. Our refractory customers are located in more than 70 countries and regions all over the world. For example, South Africa, Philippines, Chile, Malaysia, Indonesia, Vietnam, Kuwait, Turkey, Zambia, Peru, Mexico, Qatar, Egypt, Russia, Kazakhstan, etc. If you need to buy monolithic refractory ramming mass or other monolithic refractory materials, such as castables, plastics, etc. Please contact us. Our technical department will provide you with monolithic refractory products that are very suitable for your production needs according to your specific needs.