The basic material composition of ordinary refractory ramming materials is basically similar to that of refractory castables and plastics. It is also composed of refractory aggregates, powders, binders, and additives in proportion. The difference is that the amount of powder in the ingredients of the ramming material is more, and the amount of binder is less. Usually, soft clay is added to increase the viscoplasticity and sinterability of the material, and it is constructed by the ramming method, so it is called refractory ramming material.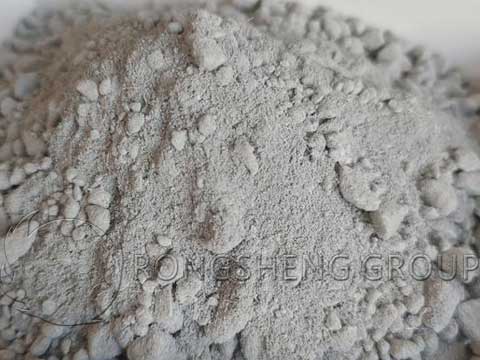 Refractory ramming materials can be divided into clay, high alumina, mullite corundum, siliceous, magnesia, and silicon carbide according to the different types of refractory aggregates. The composition of refractory ramming material is generally 60~65% of refractory aggregate and 35~40% of refractory powder so that a larger bulk density can be obtained, and the density of the lining body after ramming is also larger. The critical particle size of refractory aggregate is 10mm, and 5mm is also useful, and the mass ratio of coarse and fine aggregate is 3:7~4:6. More fine aggregates are easier to ram and compact.
Common application fields of refractory ramming materials
(1) The high-alumina ramming material is suitable for the furnace entry of the electric furnace and the discharge port of the rotary kiln.
(2) Magnesium ramming material is suitable for the bottom of an electric furnace, open hearth, and converter.
(3) Dolomite ramming material is suitable for the bottom of the converter and ferroalloy electric furnace.
(4) Graphite and silicon carbide ramming materials are suitable for blast furnaces and molten iron ditches.
Refractory ramming materials and plastics are monolithic refractories that were widely used before low-cement and ultra-low-cement castables were popularized and applied. Most of the ramming materials are granular semi-dry materials, and alkaline ramming materials are generally dry dense materials. The ramming material is combined with the ramming method construction. It is characterized by fast construction, high-temperature construction, fast drying speed, and a large distribution of particles in the middle of the ingredients so that the particles can be tightly packed by a mechanical external force.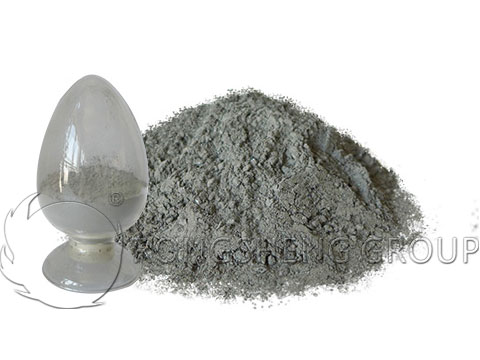 The refractory ramming material is made of refractory aggregate and clay, and the semi-plastic mixture is made of many kinds of raw materials and binders. Such as high alumina materials, alkaline materials, and silicon carbide and spinel materials. Inorganic binders such as clays, phosphoric or phosphates, sulfates, chromates, chromic acids, aluminum solutions, silica sols, and borates and boric acid are commonly used in dry ramming mixes. Organic binders such as carboxymethyl cellulose, lignosulfonate, molasses, resin, ethylene glycol, coal tar, pitch, etc.
The high-aluminum ramming material with high aluminum content has the characteristics of small shrinkage at high temperatures and good spalling resistance.
Al2O3-SiC ramming material has excellent resistance to molten metal penetration and is often used in induction furnaces for iron and steel metallurgy and non-ferrous metallurgy (copper smelting, etc.).
Al2O3-SiC-C ramming material is often used in ironmaking and electric furnace tapping grooves and lining. Among them, the high graphite content ramming material has good non-wettability and is often used in the slag line and metal line.
Magnesium alkaline dry ramming material is often used in electric furnace bottom and ferroalloy coreless induction furnace lining by adding a low-temperature sintering agent. In addition, the molten magnesia-chromium ramming material has good density and strength and corrosion resistance at various high temperatures. Suitable for the lining of degassing units and for use in very harsh conditions.
Zircon air-hardening zirconium density ramming materials can also be used in glass kilns.
Phosphate-bound high-aluminum and aluminum-chromium ramming materials have high strength and excellent resistance to acid erosion and neutral slag erosion properties of fly ash at high temperatures.
The ramming material combined with chromic acid and chromate has the characteristics of high-temperature strength, good thermal shock stability, and corrosion resistance of each component slag. Chromic acid and chromate-based materials are generally gas-hardening and thermosetting combinations and are widely used. However, the drying and heating process should be strictly controlled to avoid spalling due to the inhibition of the discharge of water vapor on the surface.
Carbon-containing ramming materials using organic binders are prone to oxidation at high temperatures, reducing strength and slag resistance. The refractory ramming material combined with non-toxic silica gel and carbonaceous material forms a protective layer on the surface of the carbonaceous material at high temperatures and maintains a high strength.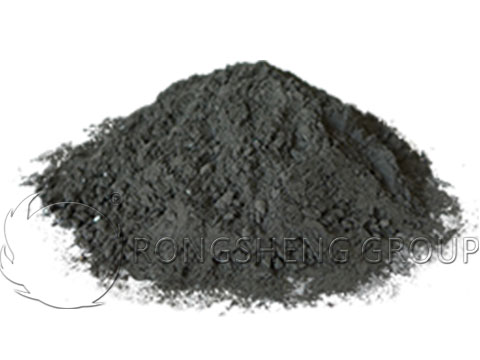 Application of silicon carbide-corundum composite refractory ramming material in a pulverized coal gasifier
Silicon carbide-corundum composite refractory ramming material is mainly used in the water wall area. The high thermal conductivity of the silicon carbide-corundum composite refractory ramming material is used to quickly take away the heat of the slag on its surface, thereby reducing the temperature of the slag and solidifying it, gradually forming a stable solid slag layer. The realization of "resisting slag with slag" effectively protects the refractory material from the erosion of high-temperature liquid slag.
Silicon carbide-corundum composite refractory ramming material is a SiC-Al2O3 system. The raw materials are silicon carbide, corundum, activated alumina powder, additives, and binders. The composition ratio of conventional silicon carbide-corundum composite refractory ramming material is 65%-75% silicon carbide and 20%-30% alumina. The binder is added in the form of liquid and is applied to the surface of the water-cooled coil by ramming.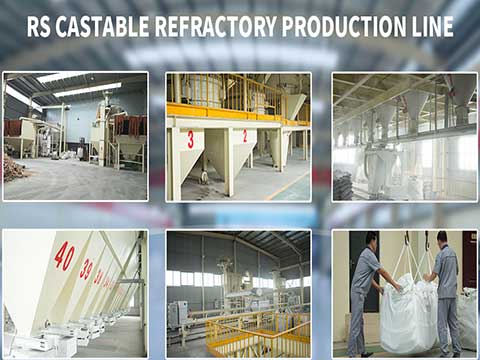 Rongsheng Unshaped Refractory Manufacturer
Rongsheng Refractory Material Factory is an experienced manufacturer and seller of refractory materials. Our environmentally friendly fully automatic monolithic refractory production line has an annual output of 6W tons. Our refractory customers are located in more than 80 countries all over the world, eg, South Africa, Philippines, Chile, Malaysia, Indonesia, Vietnam, Kuwait, Turkey, Zambia, Peru, Mexico, Qatar, Egypt, Russia, Kazakhstan, etc. If you need to purchase high-quality monolithic refractory products, our technical department will provide you with the product that best suits your production needs. To purchase high-quality refractory ramming products, please contact us. We will reply to you in the shortest possible time.