Refractory Concrete for sale as a kind of monolithic refractories in Rongsheng Factory has good thermal stability performance and can be conveniently used in high temperature furnace or kiln. If you want to buy this unshaped refractory, welcome to contact us for detailed information now.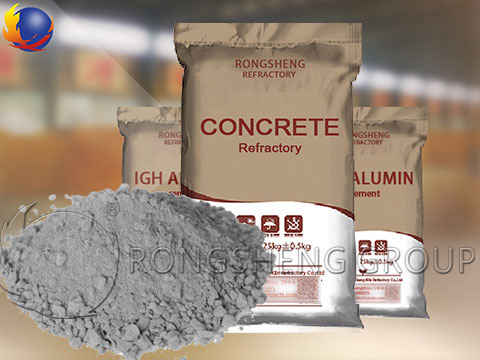 Refractory Concrete Meaning
Refractory Concrete belong to unshaped refractory and is made of aggregate, cementing agent and admixture according to a certain ratio. According to the different cementing agents, it can be classified into aluminate refractory concrete, sodium silicate refractory concrete, phosphate refractory concrete and aluminum sulfate refractory concrete.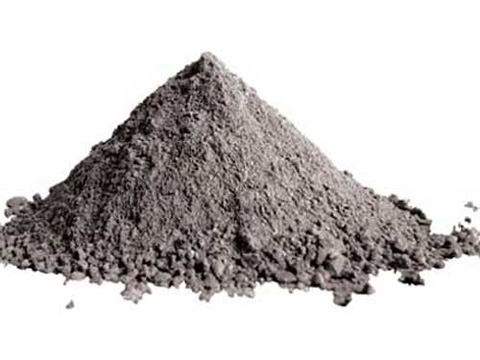 Refractory Concrete Properties
Refractory concrete properties depend on the materials and mix radio of refractory aggregate, admixture and cementing material. Its materials, composition and burdening are similar to castable refractory.
High heat refractory concrete can serve in the temperature vary from 900℃ to 1600℃. It has physical and mechanical properties of high refractoriness, good thermal stability, softening point and low shrink in the high temperature.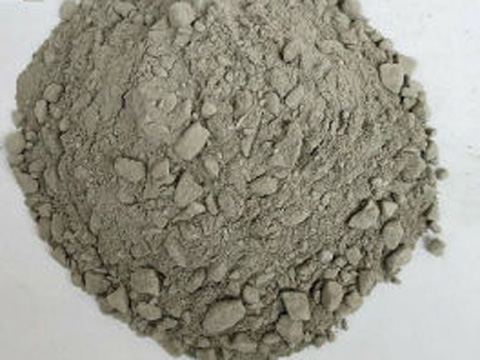 Refractory Concrete Application
Refractory concrete can resist high temperature erosion and has simple manufacturing process. It can be produced to be monolithic products with complex shapes. Heat resistant refractory concrete costs low and can be widely used for the lining, door, wall and tapping spout in heating furnace, soaking pit furnace. This concrete unshaped refractory is mainly used to build the monolithic lining and precast block for the furnace or pizza oven.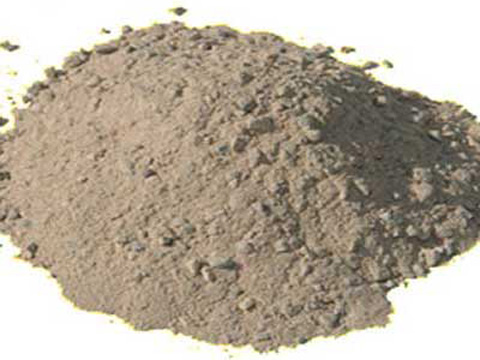 How to Make Refractory Concrete
Refractory concrete can keep serving in the high temperature over 900℃ for long time. In order to keep their excellent properties, it is important to use the suitable materials to make refractory concrete. When making refractory concrete, mix the proportional cementing materials, refractory aggregates and admixture into the water.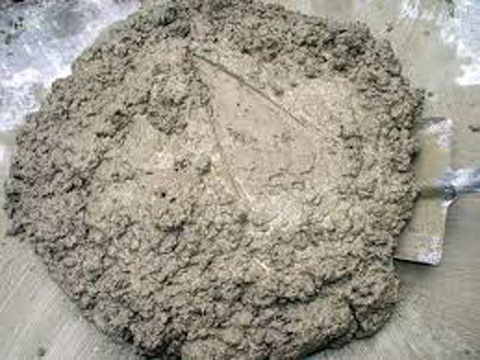 Refractory Concrete Recipe
The refractory aggregates play an important role in the refractory concrete to support its whole framework. When choosing the refractory aggregates, they are available for dry slag, crushed refractory bricks, basalt, bauxite clinker, magnesite clinker and so on. The fine aggregates can be magnesia sand, crushed magnesia refractory bricks, corundum sand.
The cementing materials can help coagulate, which is available for Portland cement, portland blast furnace slag cement and low-calcium aluminate refractory cement.
Choosing the water reducing agent as the common admixture which can reduce the amount of water used for mixing refractory concrete.
When making refractory concrete mixture, it can be constructed through methods of casting, tamping and vibrating.
Refractory Concrete Mix Ratio
Design of Refractory Concrete Mix Ratio
Determination of Refractory Concrete Mix Ratio
First, according to the raw material requirements given in the design drawings or design notice, which can meet the requirements of construction and workability after trial mixing.
Second, the test department proposes mix ratio and raw material technical requirements to sample and test. Or the construction mix ratio shall be determined by the material testing department and trial mixing at the construction site.
Allowable Error of Refractory Concrete Mix Ratio
In order to ensure that the technical performance of refractory concrete meets the design requirements, the weighing of the various materials composed of it must be strictly controlled. The specific requirements are as follows: first, the allowable error for cement and powder is ± 1% . second, the allowable error for refractory aggregate is ± 3%. The allowable error for water and various liquid cementing materials is ± 1%.
Basic Parameters of Refractory Concrete Mix Ratio
Refractory concrete mix ratio is designed including the basic parameters of the amount of cementing material, water-cement ratio, the amount of admixture, aggregate gradation and sand rate.
Amount of Cementing Material
Generally, the refractoriness of refractory aggregates is higher than that of cementing materials. When the cementing material exceeds a certain range, with the amount of cementing material increases, the load softening point decreases and the residual deformation increases. Therefore, in order to improve the high temperature performance of refractory concrete, the amount of cementing material should be reduced as much as possible under the conditions of workable performance and normal temperature strength.
If the cement refractory concrete is used in different conditions, the amount of cement can be around 15%. For cement refractory concrete with high requirements on load softening point and refractoriness, and low requirements on normal temperature strength , the amount of cement should be controlled at about 12%.
Water-cement Ratio
The increase in water-cement ratio of cement refractory concrete has a significant effect on its strength and residual deformation. The increase of water-cement ratio and the decrease of concrete strength is more pronounced for refractory concrete. Therefore, when preparing refractory concrete, it is necessary to reduce water consumption and water-cement ratio as much as possible. Generally, the slump of concrete mixture should be less than 2cm, and it is better to use hard concrete. The modulus of water glass should be controlled in the range of 2.6 to 2.8 and the relative density should be 1.36 to 1.40 when the cementing material of refractory concrete is water glass. The amount of hardening agent sodium fluorosilicate generally is 10% to 12% of the amount of water glass. The concentration of phosphoric acid is usually 50% when it is used as the cementing material of refractory concrete.
Amount of Admixture
It will improve the high temperature performance and peaceability of refractory concrete to add appropriate amount of admixture. As the test results: add more admixture to the refractory concrete when it has low requirement on normal temperature strength. The dosage of admixture is usually 30% to 100% of the cement, and the highest can reach 300%.
Aggregate Gradation and Sand Rate
The amount of aggregate accounts for about 80% of the total volume of the refractory concrete mixture. Improving the gradation of the aggregate that can improve both the compactness and high-temperature characteristics of the refractory concrete. Consider the type and refractoriness of the aggregates and select the suitable aggregates that can keep in match with cementing material. Selecting the appropriate particle size, if its size is too large and the amount is too much, the workability of the concrete mixture is poor, and the molding is difficult, which will reduce the density of refractory concrete and will be easy to delaminate at high temperature. The sand rate should be controlled at about 45%.
Where to Buy Refractory Concrete
When you need refractory concrete for your furnace or kiln, you can find professional refractory concrete suppliers online or locally. Learn about the certifications and production line or factory. Check the samples for test. Through the comprehensive consideration, you can find a better and professional refractory company to purchase. Here Rongsheng Company as professional monolithic refractory materials supplier can satisfy your requirements about choosing and buying high quality refractory concrete for sale cheap. Just contact us now.
Refractory Concrete Supplier – Rongsheng
Rongsheng refractory concrete supplier is in China and has our own factory. Rongsheng Company can provide customers with our best sales service and after sale service. We have professional manufacturing technology and refractory experts as our strong strength. We can produce and supply high quality refractory concrete for sale cheap to customer worldwidely. If you want to buy refractory concrete for your furnace or kiln project, you can contact us through email with your detailed requirements. Our sales manager will provide you with free quotation and our refractory technicist will provide you with professional guidance. Welcome to email us.