In recent years, industrial kilns have higher and higher requirements for product quality and energy-saving production. Therefore, in the selection of refractory materials for rotary kilns, more and more attention is paid to the cost reduction caused by energy saving and consumption reduction after the use of refractory materials. According to the needs of customers, Rongsheng refractory manufacturers are constantly accepting challenges from customers for the research and development and production of refractory materials. Especially in the production, development, and use of monolithic refractory materials, we have made unprecedented attempts and achieved good results. The feedback on the use effect of several rotary kiln customers gave a thumbs up to the rotary kiln refractory castable from Rongsheng. So, what kind of refractory castables are used in rotary kilns?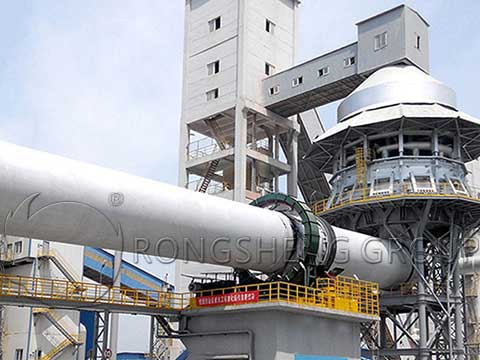 First of all, rotary kilns include cement rotary kilns, lime rotary kilns, waste incineration rotary kilns, zinc smelting rotary kilns, etc.
According to the production characteristics of each kiln, the technical department of the Rongsheng refractory castable manufacturer recommends different refractory castables for different working parts of different rotary kilns.
Cooler, preheater, precalciner, kiln door cover, and tertiary air duct of cement rotary kiln. Use alkali-resistant castables, high-alumina and corundum castables, heat-insulating castables, steel fiber reinforced refractory castables, and anti-skin castables.
Lime ash rotary kilns are currently mixed with prefabricated blocks and castables in many cases. Most of them use corundum steel fiber castables and prefabricated parts of the same material. Alkali-resistant castable for preheater, steel fiber refractory castable, corundum steel fiber castable for kiln mouth.
Chrome corundum castable and high alumina castable for waste incineration rotary kiln. Lightweight insulating castables, steel fiber refractory castables, etc.
Corundum silicon carbide castables and high alumina refractory castables for zinc smelting rotary kilns.
Alkali-resistant castables are used in the preheating parts of various kilns, and their alkali-resistant performance is better than that of clay or high-alumina castables. Low-cement alkali-resistant castables can also be used in the rear kiln mouth, cooler, and kiln door cover.
Lightweight heat-insulating castables have thermal insulation properties, which can not only reduce the skin temperature of the kiln but also save fuel and reduce production costs.
Lightweight heat-insulating refractory castables are used in the double-layer structural linings of coolers, preheaters, precalciners, kiln door covers, and tertiary air ducts.
The kiln mouth is made of corundum refractory castable with steel fiber. Because there are castings at the kiln mouth that need wear resistance and corrosion resistance to meet the use. The addition of steel fibers can improve the thermal shock resistance, impact resistance and wear resistance of the castable. The current high-grade castables are combined with low cement, adding ultra-fine powder technology and high-efficiency dispersants, with high strength, good thermal stability, impact resistance, erosion resistance, wear resistance, and long service life.
Next, why are refractory castables recommended in rotary kiln incinerators?
In the refractory castable system, high-density and erosion-resistant refractory castables should be used in the rotary kiln incinerator. Chrome refractory castables are recommended. The reasons for this are as follows.
①At high temperature, in the binary system formed by Cr2O3 and some main refractory oxides, the compounds formed by them have a higher melting point and a higher eutectic temperature.
②Cr2O3 can reduce the wettability of slag to refractory castables. Typically, the slag at high temperature penetrates the refractory castable and forms a metamorphic layer. When the use temperature changes drastically, the structural stress generated by the expansion of the metamorphic layer minerals will cause cracks to form inside the material, which in turn leads to structural spalling of the refractory material. Cr2O3 can effectively reduce the penetration of slag in chromium-containing refractory castables and reduce the resulting structural spalling. The same effect can be achieved even with extremely permeable slag containing sulfur and oxygen.
Therefore, Cr2O3 refractory castables have excellent resistance to kilns used for non-ferrous smelting slag, out-of-furnace refining steel slag, waste medical and hazardous waste incineration, first-class glass melt, and other kilns.
Rongsheng Refractory Castable Manufacturer for Rotary Kiln
As a refractory castable manufacturer, Rongsheng has rich experience in production and application. Moreover, its advanced environmentally friendly unshaped refractory production line, along with the selection of high-quality refractory raw materials, guarantees every customer's demand for the refractory lining. Our customers change prices in more than 70 countries all over the world, such as South Africa, Philippines, Chile, Malaysia, Indonesia, Vietnam, Kuwait, Turkey, Zambia, Peru, Mexico, Qatar, Egypt, Russia, Kazakhstan, etc. If you are looking for a manufacturer of unshaped refractory castables, or you need to buy other refractory materials such as refractory castables for rotary kilns, please contact us. We will provide you with the most suitable refractory lining material for your production needs based on the working conditions of your refractory lining.