High-alumina refractory castable is the kind of the most widely used castables. High-aluminum castables have the characteristics of high refractoriness, low airtightness, thermal shock resistance, and corrosion resistance. The matrix of the high-alumina raw materials is different, and the castable matrix produced is also different. They can be lined in various furnaces such as boilers, blast furnaces, hot blast furnaces, heating furnaces, and ceramic furnaces. So, how many types of high-aluminum castables are there?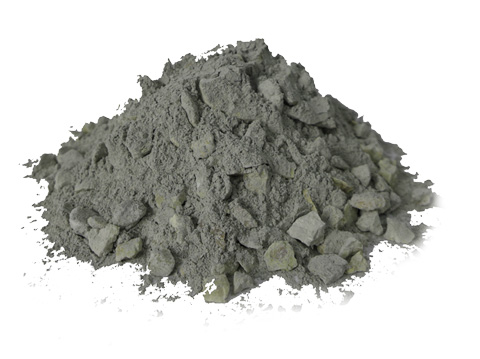 How Many Types of High-Aluminum Castables are There?
This question is really inaccurate because the aluminum content of high-aluminum castables from alumina content 55% to alumina content 80% is all high-aluminum castables. Therefore, there are really too many different types of high-aluminum castables. In addition, there are many requirements for adding other ingredients to high-alumina castables. There are also light and heavy castables. It is not too much to say that there are dozens of them, and it is not an exaggeration to say that there are hundreds of them.
The most commonly used high-aluminum castables are those with 55% aluminum content and 60% and 65% aluminum. If it is a special furnace lining, the temperature is also highly corrosive and extremely strong, then use high-strength wear-resistant castables. If you need acid resistance, you need to choose acid resistance castables. If it is a duct, use andalusite high alumina castable. Therefore, the exact type of high-aluminum castable is difficult to determine.
It can also be said that, except for magnesia castables and carbon castables, bauxite is basically added to the rest, which can also be called high-alumina castables. It's just that the grades of these high-aluminum castables are different, and the areas used are different. The wide range of uses and varieties of high-aluminum castables are real in the process of use.
Some users say that corundum castables are not high-alumina castables. In fact, corundum castables are also castables with high aluminum content, which belong to the range of high-grade materials and are also the category of high-aluminum castables.
Corundum silicon carbide castable is also an alumina material with high aluminum content added to the matrix. It can be said that neutral products are basically inseparable from bauxite, and they can all be called high-alumina castables, but they are of different grades.
In the high-aluminum castable, the aluminum content is higher than 85%, which is called corundum castable. If you add silicon carbide, it is called corundum silicon carbide castable, if you add mullite, it is also called corundum mullite castable. Mullite is present in all high-alumina series.
Therefore, there are so many types of high-aluminum castables that cannot be explained by accurate figures. Even experienced refractory manufacturers can only determine what grades of high-aluminum castables are required for specific refractory linings based on their actual use temperature or the corrosion performance of the refractory lining.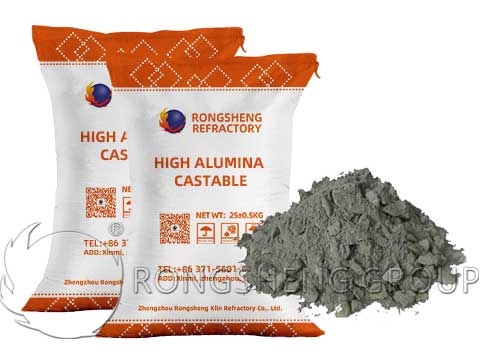 Characteristics of High-Alumina Refractory Castables
Regardless of the type and material of the castable, the key is the main indicators of thermal shock resistance, refractoriness, and abrasion resistance. However, castables with different body densities have different wear resistance coefficients. Corrosion resistance is mainly due to the addition of other materials with different components to make it have a lot of rigid indicators. Many manufacturers of high-aluminum castables have adopted micro-powder technology to make the castables have low calcium content and good strength. According to the experience sharing of refractory manufacturers, the characteristics of high alumina refractory castables are as follows.
The amount of cement is low, thus reducing the amount of low melting phase in the castable. This makes the calcium content of the castable low so that the late strength of the high-aluminum castable is significantly improved.
Low water consumption during construction, only half of the ordinary castable. In general, the amount of water added is 6%, which will increase the density of the castable and reduce the porosity.
High-aluminum castables not only have high strength at room temperature but also do not decrease in strength after medium and high-temperature treatments. The strength is 3-5 times higher than that of traditional refractory castables.
It also has good volume stability at high temperatures, although it is dried and calcined during use by the user. But the body density will not shrink.
The Price of High Aluminum Castable
The price of high-aluminum castables is determined according to the body density. Under normal circumstances, low-fired materials or low-density high-alumina materials, the price of castables produced will be relatively lower. If it is castable with a higher body density, the price will be relatively high. In other words, the price of high-aluminum castables is determined by the volume density and aluminum content. Due to the different control of raw materials by refractory manufacturers, the prices of high-alumina refractory castables finally delivered by different refractory manufacturers will also be different. For more information on the price of high alumina refractory castables, please contact us.